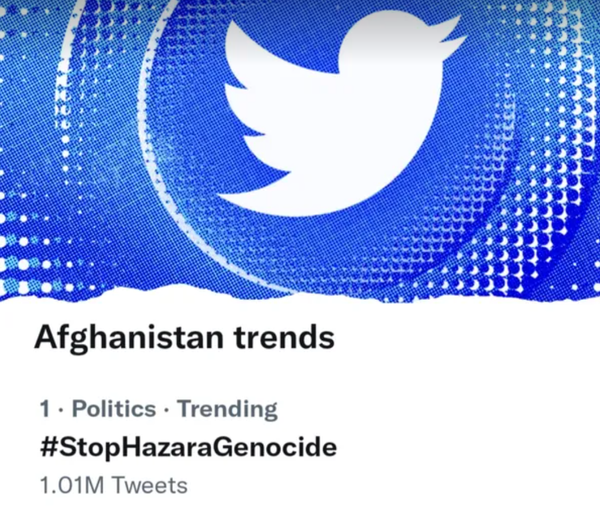 Twitter Campaign #StopHazaraGenocide Garners 1 Million Tweets
A Twitter campaign started with the hashtag "#StopHazaraGenocide" has been tweeted more than a million times on the micro-blogging site.
The campaign had been started by Hazara rights activists after a suicide attack on an educational center on September 30 in western Kabul.
Supporters of the campaign have urged the international community to recognize that a genocide is currently underway against the Hazara Shia community in Afghanistan.
So far, many politicians, rights activists, artists, and members of the Hazara ethnic community have joined the Twitter campaign.
Sarwar Danesh, the former vice-president, supported the campaign and said that terrorism will eventually be rooted out of Afghanistan.
Shukria Barakzai, the former ambassador of Afghanistan in Norway, joined the campaign and wrote on her Twitter account that the campaign could be a sign of national unity of Afghans.
The Twitter campaign supporters believe that Hazaras of Afghanistan have been systematically targeted and are facing genocidal killings.
Elif Shafak, the Turkish-British novelist, too joined the campaign and called the Hazaras of Afghanistan a wanted minority group.
Farhad Darya, a famous Afghan singer, has called for a week of national mourning for the victims of September 30 attack on Hazaras in western Kabul.
In recent years, attacks on Hazaras, especially on their educational centers, have increased. Islamic State-Khurasan has taken responsibility for most of the attacks.
More than 40 students died and over 100 others were injured in the September 30 attack.
Human rights groups have repeatedly announced that after the fall of Afghanistan to the Taliban, members of the Hazara and Shia community of Afghanistan have been systematically attacked.