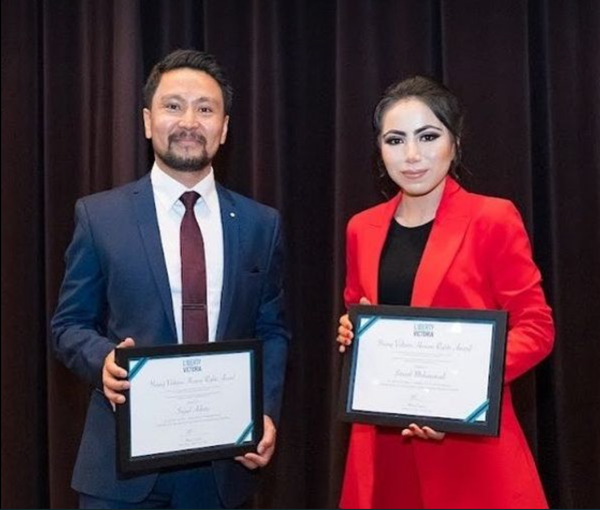 Young Voltaire Award Awarded to 2 Hazara Human Rights Activists In Australia
Young Voltaire Award of the Victorian Council for Civil Liberties in Australia has been awarded to Sitarah Mohammadi and Sajjad Askari.
The Victorian Council announced that the two Hazara activists have been active in the field of human rights, and the rights of Hazaras.
The Victorian Council said that the Young Voltaire award has been given to those who are under 30 years old and have worked in the field of human rights, civil rights, and freedom of expression.
According to the organisation, Mohammadi and Askari are joint recipients of the Young Voltaire award in 2022.
This organisation has said that these two young Hazara human rights activists have shown persistence, bravery, and commitment to letting the world know that Afghanistan is burning.
Sitarah Mohammadi was born during the previous Taliban regime and had no access to education until the age of eight. Mohammadi is currently a Ph.D. student at Monash University in Australia and a Provost Research Fellow at Oxford University. She is also the spokesperson of the "World Hazara Council".
According to Victorian Council, Sajjad Askari also entered Australia via a boat in 2012. Askari has a BA in International Relations and is currently a Ph.D. student of law at Monash University. He also writes for media outlets such as the Guardian, and Al Jazeera English.