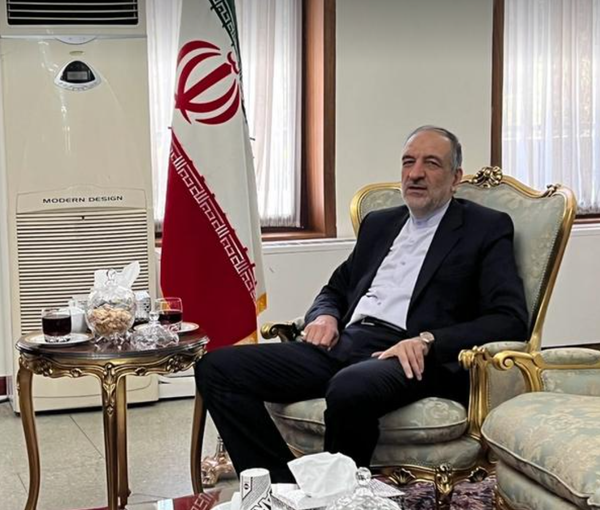 Aminian's Speech Leak Stirs Trouble in Kabul As Iran's Ambassador to Afghanistan Replaced
Sources told Afghanistan International that Iran has replaced Bahadur Aminian, the country's ambassador to Kabul.
The change in Tehran's ambassador in Kabul comes weeks after Aminian's controversial speech about the Taliban and Afghanistan had been leaked.
After Afghanistan International published his speech, Aminian has not been seen in Kabul and Iran's deputy ambassador in Afghanistan has been in charge of the embassy's operations.
Last month, a hacker group got access to an internal Fars News Agency bulletin and published the full text of its findings on a Telegram channel.
A part of these files was the transcript of the speech of Bahadur Aminian, the ambassador of the Islamic Republic of Afghanistan, in a small gathering in Tehran. Aminian had said that if his conversations would get published in the media and reached the Taliban, he would not be able to return to Kabul.
In that speech, the ambassador of the Islamic Republic of Iran had described the Taliban as a disaster that is unacceptable, embarrassing, and subversive, but at the same time, he had emphasised that the Islamic Republic has no choice but to work with them and support them.
He compared the Taliban, which, according to reports, came to power in Afghanistan with the extensive financial and military support of Iran, with the Mongol army, and suggested that the Islamic Republic must treat them like the Mongols so that they become civilised.
The text of Aminian's speech had been published by Afghanistan International.
The Embassy of the Islamic Republic of Iran in Kabul reacted immediately and confirmed the main source of the news publication, but called publishing the news as biased.
The last time Aminian had been seen in Kabul was in a meeting with Hamid Karzai, three days before the news of his speech was published. Hasan Mortazavi, the deputy ambassador of the Islamic Republic, has been running the affairs of the embassy and has been meeting with the Taliban officials over the last two weeks.
During the past week, it has been reported that Hassan Kazemi Qomi, Iran's special envoy for Afghanistan, has replaced Aminian as the new Ambassador of Tehran in Kabul. However, the Ministry of Foreign Affairs of Iran reacted to these rumors and announced that Qomi will continue to work as the special envoy in Afghanistan affairs.