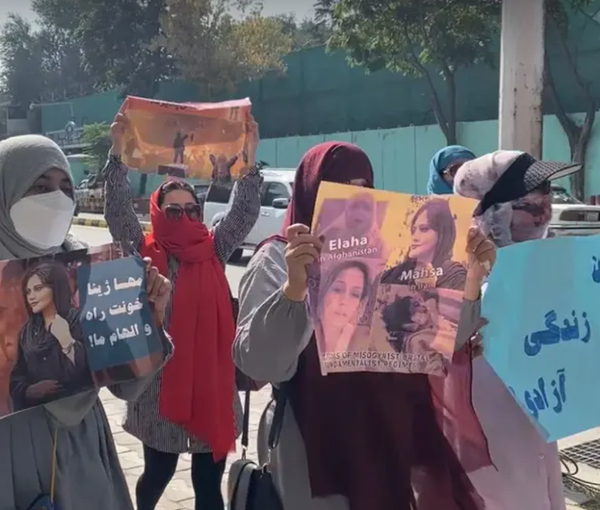 Afghan Women Hold Demonstrations in Kabul in Support of Iranians
Several women gathered in front of the Iranian embassy in Kabul on Thursday and expressed their support for the nationwide uprising of the Iranian people.
The placards held by these women read "Women, Life, Freedom", and "Women of Iran and Afghanistan do not accept captivity".
Taliban forces, however, dispersed the rally with aerial firing. According to local sources, around 25 Afghan women had staged the protest. Women protesters carried placards that read, "Iranians have stood up, now is our turn" and "Say no to dictatorship from Kabul to Iran".
This is the second time when Afghan women have expressed their support for Iranian women's demonstrations. Earlier, they had supported the Iranian people's protests and said that soon "the rule of brothers, fathers and husbands will end". These women added that they have suffered the same pain which Iranian women are going through.
Women, life, and freedom is the famous slogan of the popular movement which had started in Iran after the Iranian girl Mehsa Amini had been killed in the custody of the morality police of Iran.
The nationwide uprising against the Islamic Republic regime, which started after the murder of Amini across Iranian cities, continues across the country.