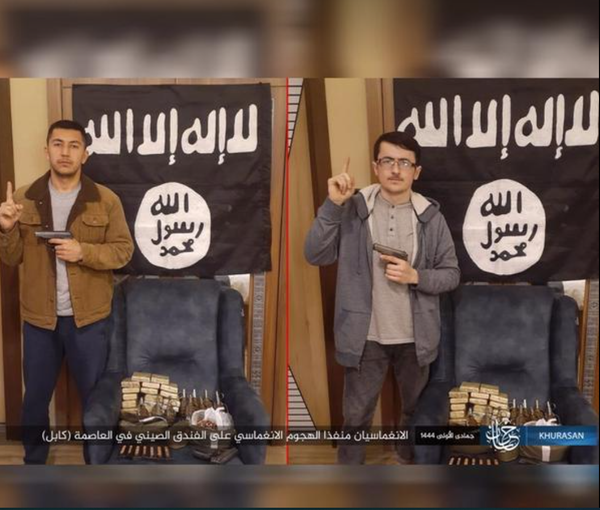 Attackers Stayed At Kabul Guest House Before Attack, Say Security Experts
Security experts believe that perpetrators of the attack on the Chinese guest house in Kabul had moved into the hotel before the incident.
These experts told Afghanistan International that the ISIS-published propaganda photos of the attackers have been taken inside the hotel.
On Monday, a guest house in which Chinese citizens had been staying in Kabul came under a deadly attack which has left at least three dead and 18 injured. The Chinese government has confirmed that at least five citizens of the country had been injured in the attack.
After reviewing and examining the photos released by ISIS of the perpetrators of the attack, security experts believe that the attackers had moved inside the hotel before the attack started.
Interior decoration and hotel sofas can be seen in these photos. The experts examined the photos released by ISIS and compared them with the photos available publicly of the inside of the hotel on its website.
The Taliban claimed that "all three attackers" had been killed by members of this group, and only two people who had jumped out of the windows had been injured. However, these experts said that the video of the person who escaped from the hotel window shows that at least one of the ISIS attackers had fled the scene.
In one of these videos, a professionally trained man climbs down from the windows of the hotel. He has the same height, hairstyle, and clothing as one of the attackers, whose photo has been published on IS-K website.
The deadly attack has been carried out while the Taliban claims to have established nationwide security in Afghanistan after taking power in August 2021.
The Chinese government considered to be one of the main allies of the Taliban, on Tuesday, asked all its citizens to leave Afghanistan.
The day before the attack on the hotel, Taliban officials had assured the Chinese ambassador in Kabul that national security has been established in Afghanistan and that this group will ensure the security of Chinese citizens and diplomatic offices in Afghanistan.