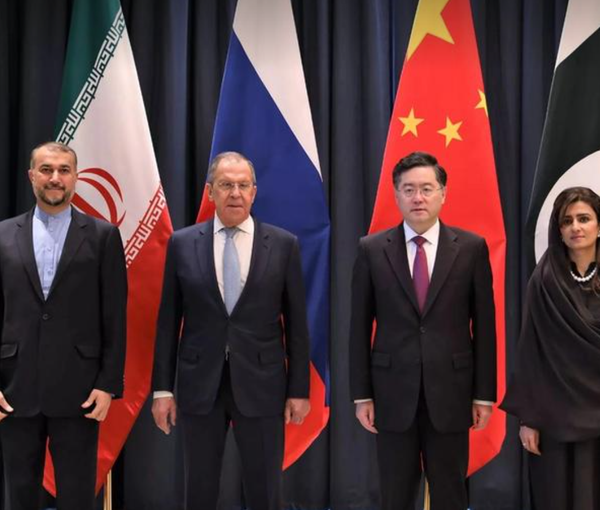 Foreign Ministers of Iran, Russia, China & Pakistan Worried About Terrorism in Afghanistan
The quadrilateral meeting of Iran, Russia, China, and Pakistan's foreign ministers discussed the concerns about terrorism in Afghanistan.
Hossein Amir Abdollahian, Iran's foreign minister, said that they expressed concerns about the ban on girls' education in Afghanistan too.
The Foreign Minister of the Islamic Republic of Iran told reporters that during the second round of this quadrilateral meeting, the foreign ministers discussed the crisis that has emerged due to continued sanctions imposed on Afghanistan.
According to Abdollahian, the foreign ministers also discussed drug trafficking from Afghanistan, its impacts on regional countries particularly Iran, and the responsibilities of the Taliban.
The foreign ministers of Iran, China, Russia, and Pakistan also issued a joint statement in which it has been said that terrorist groups including Islamic State – Khorasan (IS-K), Al-Qaeda, East Turkestan Islamic Movement (ETIM), Tehreek-e-Taliban Pakistan (TTP), Balochistan Liberation Army, Jaish-ul-Adl and other terrorist groups based in Afghanistan are serious threats to regional and global security.
The statement urged the Taliban to establish an "inclusive government with the practical participation of all ethnic groups and reverse the restrictions imposed on Afghan women and ethnic minorities."
The statement also stated that the foreign ministers are against the re-establishment of military bases in and around Afghanistan and do not consider it useful for regional peace and stability.
The foreign ministers of Russia, China, Iran, and Pakistan emphasised that Afghanistan should monitor and prevent illegal cross-border activities.
According to the statement, transboundary issues related to Afghanistan, including the water issue with the neighbours, should be addressed through dialogue and consultation.
The statement also added that the Taliban should take effective measures to protect the safety, security, and legitimate rights of foreign entities and citizens in Afghanistan.
The Samarkand meeting kicked off today in Uzbekistan.
The foreign ministers of Russia, China, Iran, Pakistan, Tajikistan, Turkmenistan, and Uzbekistan have been invited to this meeting.