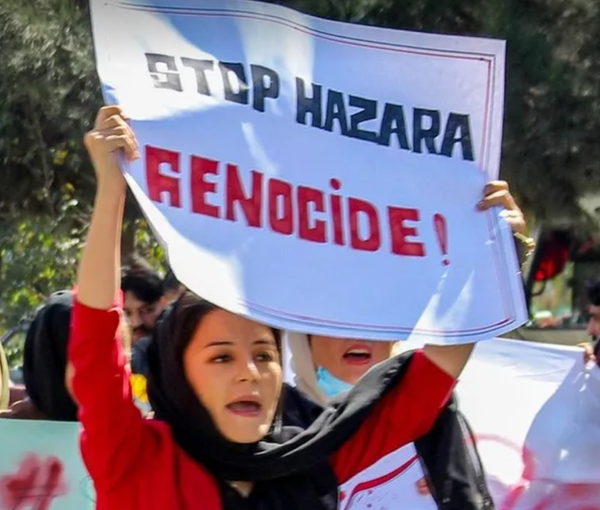 Afghan Civil Society Stands in Solidarity With #StopHazaraGenocide Campaign
In a statement released on Wednesday, the Tony Blair Institute for Global Change stated that the civil society of Afghanistan have united against the Taliban through global demonstrations and an online protest movement #StopHazaraGenocide.
It stated that Afghanistan's civil society has come together to call out the extreme persecution faced by the Hazara community. Since the Kaaj attack, the hashtag #StopHazaraGenocide has gone viral, with over eight million mentions on Twitter - and this number is only growing. This is an instance of unprecedented unity, where all communities, regardless of ethnic or religious sect, within and outside of Afghanistan's borders, are standing in solidarity with the Hazara people as well as suppression and happening in northern provinces of Afghanistan such as Panjsher, Baghlan and Takhar.
#StopHazaraGenocide has also been supported by members of the international community, where politicians, human rights activists, artists and even the renowned Turkish novelist, Elif Shafak, have all joined the online protest movement.
"The Hazara community face vulnerability due to their ethnicity, but also due to the fact they predominantly adhere to the Shia sect of Islam. Now that the Taliban has once again violently usurped power in Afghanistan, Hazaras no longer have representation in cabinet positions, provincial and district governors, mayors and police chiefs. Whilst there have been two appointments of Hazaras, this has been purely symbolic. Without genuine representation, the Hazara community lack security and protection – leaving them vulnerable. There is also broad consensus amongst the Taliban that Shias are not 'proper Muslims'. In fact, the Taliban's persecution of other ethnic groups, such as Tajiks and Uzbeks, demonstrate the exclusionary state they are trying to build – where the Taliban is attempting to erase the mosaic nature of Afghanistan's communities," the statement read.
This most recent massacre of the Hazara school children has generated unprecedented levels of solidarity amongst Afghanistan's civil society. Women from all communities came together in Kabul and protested, chanting slogans against the Taliban regime, however, the Taliban violently supressed them. Then, female university students in provinces of Herat and Bamiyan followed suit and held protests, where they were similarly beaten up and dispersed. Next, women in Balkh province took to the street to protest the regime. Dissent led by the civil society groups has not stopped, where protests continue to take place in all major cities across Afghanistan.
The protests have not been limited to Afghanistan. Afghanistan's diaspora communities have protested internationally showing solidarity with the Hazara and Tajik communities, who have been continuously targeted by the Taliban since their takeover. Over the weekend, diaspora communities of Afghanistan have rallied, holding protests in almost 100 cities across the globe.
The statement added that since 2015, when IS-K's brand emerged in the security scene of Afghanistan, there have been horrible incidents against the Shia community of Afghanistan. It stated that under the Taliban rule, the Hazara community continues to be heavily persecuted and targeted, with little done to protect them from suicide bombings and other unlawful attacks.
This statement comes as on September 30, a terrorist strapped with explosives entered the Kaaj education centre in West Kabul. He killed the guard and then set off the detonator, blowing himself up along with hundreds of teenagers – Hazara girls and boys – who were receiving tutoring for their university entrance exam. As the girls were seated in the front rows of the large room, separated from the boys, as per Taliban regulation, many more of them were killed and injured. Latest reports confirm 53 deaths, at least 46 of them girls, leaving another 110 injured.