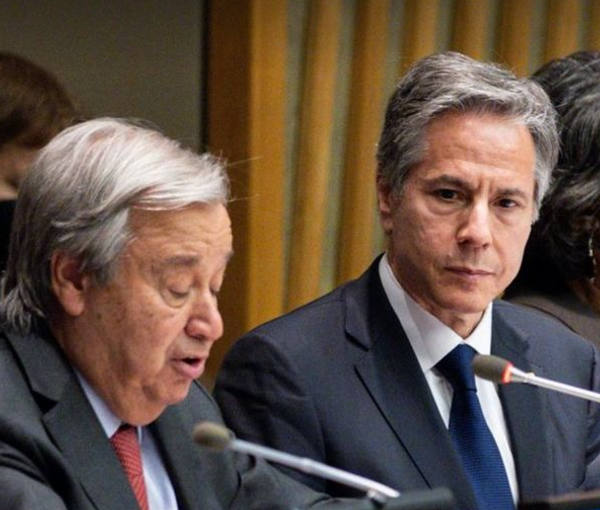 US Secretary of State Meets UN Secy General, Stresses on Inclusive Govt in Afghanistan
In a meeting with the United Nations Secretary-General Antonio Guterres, US Secretary of State Antony Blinken said that Washington seeks an inclusive government in Afghanistan.
Blinken and Guterres met in Washington ahead of the Doha meeting on Afghanistan.
The US Secretary of State also stressed that respect of women's rights by the Taliban in Afghanistan is necessary.
The Doha meeting will be held between the UN Secretary-General and special envoys of various countries on Afghanistan on May 1 and 2.
The spokesman of the UN Secretary-General said that the purpose of the Doha meeting is to build a consensus to send a unified message to the Taliban and address the challenges in Afghanistan.
It seems that with the adoption of the UN Security Council resolution that condemned the anti-women policies and practices of the Taliban, the UN Secretary-General can hope to form the desired consensus among the UN member states regarding Afghanistan.
Meanwhile, on Thursday, Markus Potzel, the deputy UN envoy for Afghanistan met with Abdul Salam Hanafi, Deputy Prime Minister of the Taliban in Kabul.
According to the Taliban, Potzel briefed the Taliban official on the Doha meeting and said that security, human rights, and other issues related to Afghanistan will be discussed in the upcoming meeting.
Hanafi has highlighted what the Taliban statement termed as "positive and important steps" of the group and urged the participants of the upcoming Doha meeting to take "effective and positive decisions" regarding the Taliban's achievements in Afghanistan.
The Taliban officials have in the past emphasised that their government is inclusive and that they consider the rights of Afghan women in the "framework of Islamic Sharia".