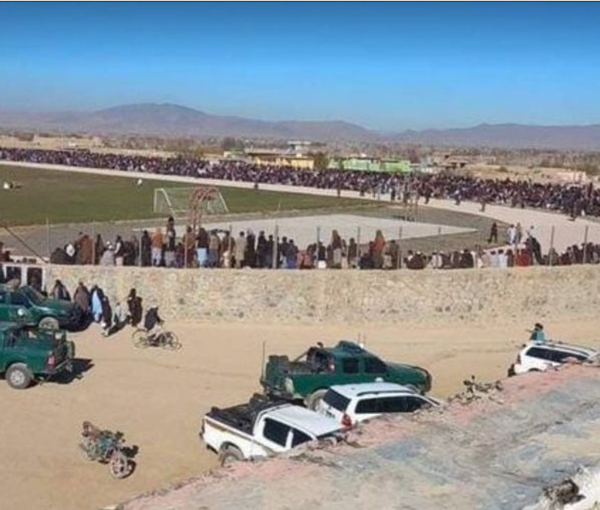 Taliban Hands Out Corporal Punishment to 300 Men, Women & Children In 6 Months, Says UN
In a new report highlighting death penalty and corporal punishment under the Taliban regime, United Nations Assistance Mission in Afghanistan (UNAMA) said that in the past six months, Taliban publicly executed one person, flogged 274 men, 58 women, and two boys.
UNAMA has urged the Taliban to immediately end death penalty in Afghanistan.
Fiona Frazer, chief human rights officer of UNAMA in Afghanistan said that corporal punishment is a violation of the Convention against Torture and must cease.
According to Frazer, the UN is strongly opposed to the death penalty and encourages the "Taliban to establish an immediate moratorium on executions".
According to the new UNAMA report published on Monday between August 15, 2021, to November 12, 2022, the UN agencies have documented at least 18 cases of corporal punishment carried out by the provincial, district, and appeal courts.
The report indicated that Ghor province had the highest number of judicially documented corporal punishments in this period.
According to the UNAMA report, in 18 documented cases, 33 men and 22 women, including two children (both girls), have been punished for adultery, sex, and running away from home.
The report stated that since the Taliban returned to power on August 15, 2021, the group has considered corporal punishment and the death penalty as indispensable for their reign in Afghanistan.
On September 23, 2021, Mullah Nuruddin Torabi, the head of the Taliban Prisons Administration, told the Associated Press that "cutting off of hands is very necessary for security" as it has a deterrent effect.
The report added that after the Taliban spokesman Zabihullah Mujahid's tweet on November 13 about the Taliban leader's meeting with the judges, "a significant increase in the number corporal punishments has been observed".
According to this report, between November 13, 2022, and April 30, 2023, 43 cases of judicial corporal punishment have been documented by UNAMA, which involved 58 women, 274 men, and two male children.
UNAMA said that the crimes of these people have been stated as adultery, running away from home, theft, homosexuality, alcohol consumption, fraud, and drug trafficking.
The UNAMA report also stated that a man was sentenced to death for killing a person in 2017 and he was executed in public view and in the presence of senior Taliban leaders on December 7, 2022.
UNAMA also recorded another case of execution which was carried out on the order of non-judicial agents of the Taliban. According to the UNAMA report, on February 14, a man and a woman were stoned to death in Nasi district of Badakhshan Province on charges of adultery, based on the order of the district governor.
This report added that in March 2022, the Taliban planned to execute four people on the charge of killing a vaccination group of eight people, however, the order was not implemented.