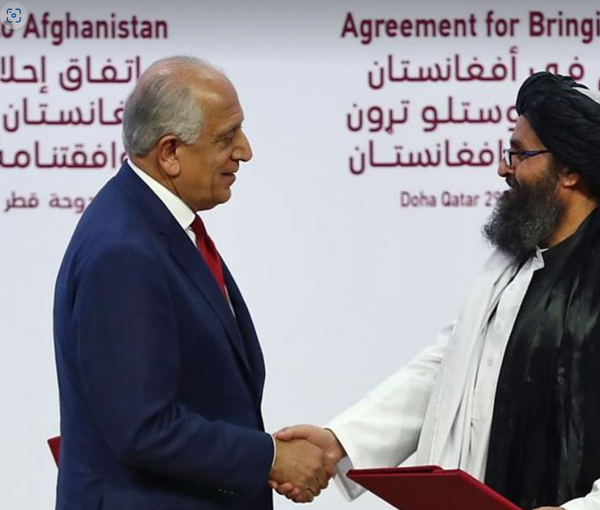 Exclusive: Not Targeting Taliban Was Part of Doha Agreement Annexure
The US had committed to not targeting Taliban leaders as part of secret annexure of the Doha agreement, sources from Taliban and previous Afghan government, told Afghanistan International.
The Agreement was signed on February 29, 2020, between the US and the Taliban in Qatar.
After the Taliban has returned to power in August 2021, the US has not carried out any attack against Taliban leaders in Afghanistan.
Several Taliban leaders have been on the list of international terrorists, and the United States has offered millions of dollars in bounty for providing information that leads to the arrest or killing of these people.
These leaders include the Taliban interior minister, Sirajuddin Haqqani; Taliban defense minister, Mullah Yaqoob; Taliban's Minister of Public Works, and brother of the former leader, Mullah Mannan Niazi. These leaders had no media appearance, but soon after the group's return to power in 2021, they have been the public faces of the group.
Even though the United States has no military footprints in Afghanistan, the country continues to carry on over-the-horizon missions across the country.
Under this mission, while the US has not targeted any Taliban leader, it has carried out operations against Islamic State-Khurasan (IS-K) and al-Qaeda members.
However, a Taliban security official told Afghanistan International on condition of anonymity that Washington had committed not to attack Taliban leaders.
A senior security official of the former government, who had regularly participated in senior security meetings of Ashraf Ghani's government, too, confirmed the Doha secret annexures of not targeting Taliban leaders.
The source added that before the fall of Afghanistan to the Taliban, the Taliban's current defense minister Mullah Yaqoob and foreign minister Amir Khan Muttaqi held public appearances and roamed freely in southern Afghanistan.
The former Afghan government at that time had detained a journalist for allegedly conducting an interview with Mullah Yaqoob and forced Shamshad TV not to air an interview with Muttaqi.