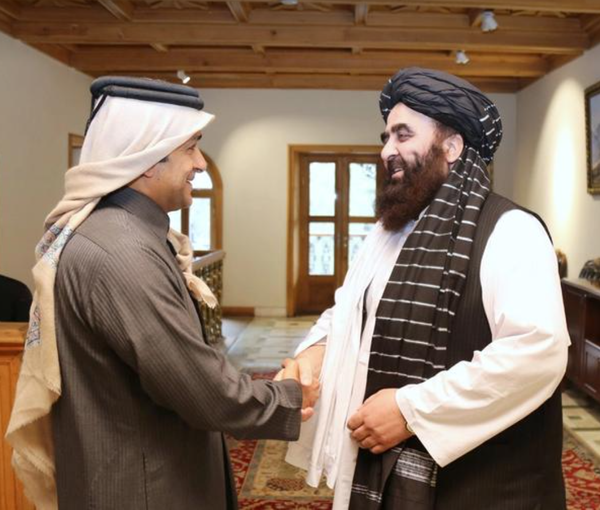 Peace & Stability in Afghanistan Interlinked With Political Consensus, Says Qatar Envoy
Mutlaq bin Majed Al Qahtani, Qatar's special envoy for Afghanistan, said on Sunday that the Taliban cannot achieve peace and stability without a comprehensive political consensus.
Qahtani discussed political inclusiveness with the Taliban foreign minister, Amir Khan Muttaqi.
Along with the Taliban's foreign minister, the Qatar special envoy met with the group's Interior Minister and Director of the General Directorate of Intelligence in Kabul.
His visit to Kabul comes after the publication of an Italian TV's report about Qatar's role in the fall of the previous government.
According to Qatar State News Agency, Qahtani emphasised on the right of women and girls to education and work and said that the people of Afghanistan should be granted access to all their rights.
Although the Taliban has said that the ban on women's education is temporary, representatives of foreign governments have continuously asked the group to reopen educational centers for girls and women.
The special representative of the Ministry of Foreign Affairs of Qatar has said that Doha "continues its efforts to facilitate the conditions for reaching a comprehensive political consensus so that security and stability prevail in Afghanistan".
A statement from the Taliban's foreign ministry has not given further details about the Taliban's viewpoints during the meetings with the Qatari envoy.
Abdul Qahar Balkhi, the spokesperson of the Taliban's foreign ministry, said on Twitter that political cooperation, improvement of relations, and humanitarian aid had been discussed during the meeting.
Taliban officials have repeatedly said that they have formed an inclusive government with representation from various provinces of Afghanistan.
After taking power in Afghanistan in late 2021, the Taliban has appointed commanders and mullahs associated with the group in senior government positions. The group has not yet invited any political party or figures from other Afghan sides to include in their government in Afghanistan.